How to Generate 434% More Traffic to Your Business
Oct/15/2020 10:22:59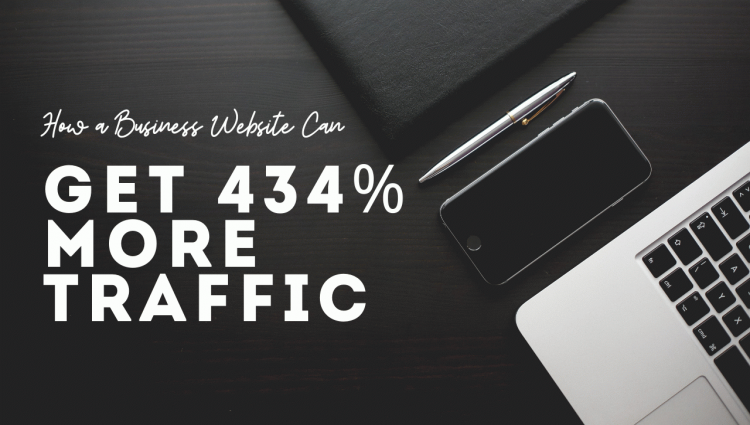 Nowadays, Online business websites facing a lot of difficulties due to high competition. The last 6 months of corona lock down result in a huge increase in the number of online businesses. A lot of people transferred their business to the internet to connect the world.
In this high competition era, how can a business find real customers?
Remember one thing, no business is able to convert all of its audience into its customers. For high-quality businesses, this ratio can be anywhere between 15% to 50%, no more than that. So that means that you need more audience to get more number of customers. Right?
So, the question is how can you get a high amount of traffic for your business website?
The answer to that question is very simple, blogging. According to research, a website having a blog can generate 434% more traffic than a website that doesn't have.
Importance of Blogging for business:
Just imagine, you get an increase of 10,000 viewers for your website and only 1% of them become your customer, meaning you will get 100 more customers from that number of audience.
The
importance of blogging for business
is so much clear that no one can reject the arguments on the benefits of having a blog for a business website. That's why
90% of business websites have a blog to target more customers.
Here are 3 Ultimate steps you can make use of the benefit of a blog for your website.
1. Start a Blog.
Starting a blog is not a big problem. The real problem is to understand your customer's needs and expectations. For this purpose, you should know who is your audience and what exactly they are looking for.
Once you become able to understand your customer's problem, you just need to offer them a free solution in the form of a blog post. But remember one thing here, your blog post should be specific and relevant to that problem, having a simple and clear solution your readers looking for.
2 Add Content
While adding content to your blog post, you need to include two things.
One is the solution, and the second is the working Call-to-Action (CTA).
Your blog post should be written in such a way that your product finds a perfect fit without any irrelative addition to it. Your product should sound like the exact solution to the reader's needs so that he can become your customer.
For this purpose, you have to find a sweet spot between your product and audience requirements. If you are not sure how to write a blog post, you can get help from
here
.
3 Share to Social Media
Social media is the second biggest source of web traffic after search engines. According to research, the biggest social media platform,
Facebook
, has more than 1.69 billion active users in 2020. A big number, not it?
Social media helps you boost
traffic
by targeting real audiences in a much easier way. You just need to have a good number of followers and membership of niche-specific community groups. The best and simple part is, you don't need to write long lengthy content, instead, you just have to share the link to your blog post and see the magic.
So what's stopping you from starting a blog? It is the best chance you can avail to target more customers to your business. Remember, during this pandemic period, the growth of competition is at its peak. So don't waste your time and start a blog right now.
Posted by Anonymous
See more blogs of Anonymous